Reich Easy Wheel Set Dual Jokey Wheel for Caravans
Due to the lock down our shop and workshop in Mahana is closed until further notice.
Our online shop will stay open during this time allowing you to browse and to place orders.
Any orders placed during this time however will only be sent out once the courier services are running back to normal in a few weeks time as our services and products are not considered "essential".
We will keep you updated on any changes.
We wish you all the very best, stay safe and healthy!
We look forward to seeing you all again once things are looking brighter again. Take care!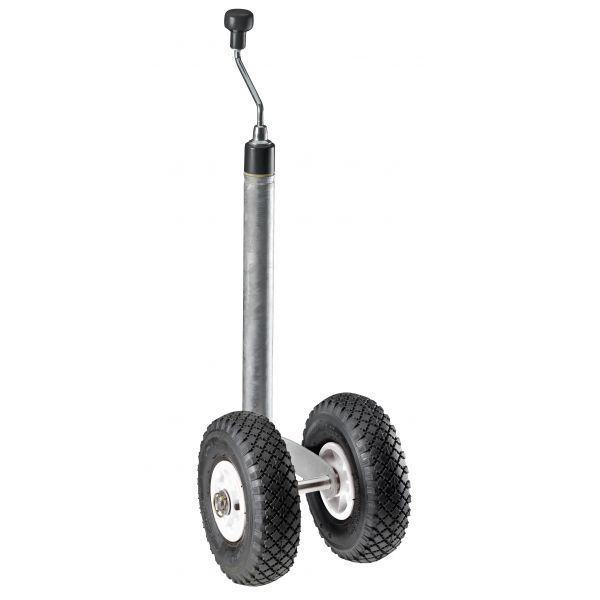 The Reich Easy Wheel Set is a double pneumatic jockey wheel retro fit kit that stops your caravan digging into the ground when muddy or using a motor mover.

To help assist with manoeuvring, the Reich Easy Wheel Set replaces your single jockey wheel with a twin pneumatic-wheel set. Simple to fit, just remove the split pin and axle from your existing jockey wheel, then using the longer axle supplied in this pack, fit the 2 new jockey wheels.

Made in Germany

Kit Contains
2 x Pneumatic jockey wheels
1 x New axle shaft
2 x Split pins
8 x Washers

Note: you will need to use your old jockey wheel mechanism, this kit just replaces the wheel.
Please note: When purchasing multiple products our website may calculate shipping costs wrong which can result in shipping costs being dispayed as too expensive.
If you feel that the multiple products you would like to purchase are having shipping costs calculated wrong, please get in touch with us so that we can charge you the right amount of shipping.
Contact Details
Request More Information
Details of the product above will be automatically included with your enquiry.