CleanOxide Water Treatment Tablets from Camec
Due to the lock down our shop and workshop in Mahana is closed until further notice.
Our online shop will stay open during this time allowing you to browse and to place orders.
Any orders placed during this time however will only be sent out once the courier services are running back to normal in a few weeks time as our services and products are not considered "essential".
We will keep you updated on any changes.
We wish you all the very best, stay safe and healthy!
We look forward to seeing you all again once things are looking brighter again. Take care!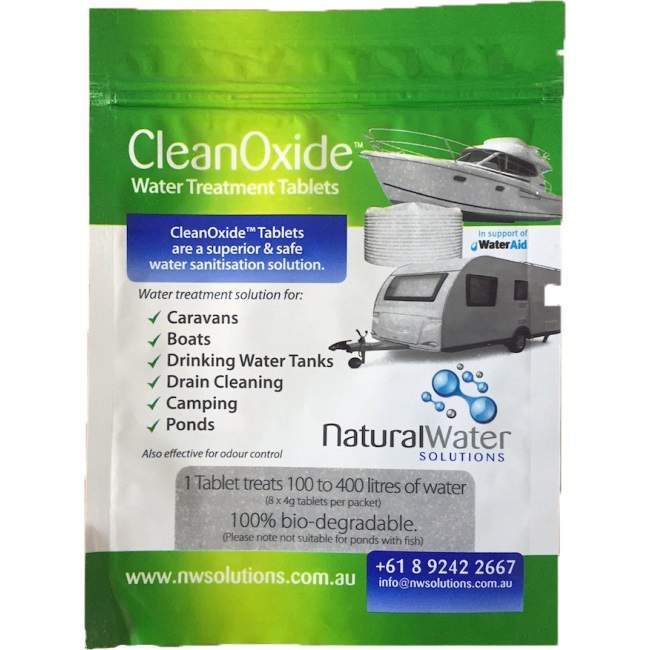 CleanOxide tablets are a superior and safe water sanitation solution.

Ideal for caravans, Camper vans, boats and drinking water tanks.

Each tablet treats up to 400L of water.

Store in a cool dry place in the original packaging.

Keep zip lock pack sealed when not in use.

FEATURES:
-Each 4g Tablet treats 100 - 400 Litres of Water

-Effective over a broad pH range (4 to 10)

-Controls bacteria, fungi, viruses, bio-film and algae

-Neutralises unpleasant taste and odours from tank water

-Safer than Chlorine. CleanOxide® does not react with ammonia & does not produce toxic compounds in contact with organic materials present in water

-Effective at lower dose rates than chlorine or bromine

-Non-corrosive at the recommended dose rates

-Bio-degrades in sunlight, so no harmful effect on the environment when flushing your tank

-Micro-organisms do not develop resistance to CleanOxide®

-Approved in Australia for the treatment of drinking water since 2005
Please note: When purchasing multiple products our website may calculate shipping costs wrong which can result in shipping costs being dispayed as too expensive.
If you feel that the multiple products you would like to purchase are having shipping costs calculated wrong, please get in touch with us so that we can charge you the right amount of shipping.
View your shopping basket or browse other items.
Contact Details
Request More Information
Details of the product above will be automatically included with your enquiry.
Other products you might be interested in