HINDERMANN CONCEPT ZWOO bike cover for Ebikes on rear carriers
Due to the lock down our shop and workshop in Mahana is closed until further notice.
Our online shop will stay open during this time allowing you to browse and to place orders.
Any orders placed during this time however will only be sent out once the courier services are running back to normal in a few weeks time as our services and products are not considered "essential".
We will keep you updated on any changes.
We wish you all the very best, stay safe and healthy!
We look forward to seeing you all again once things are looking brighter again. Take care!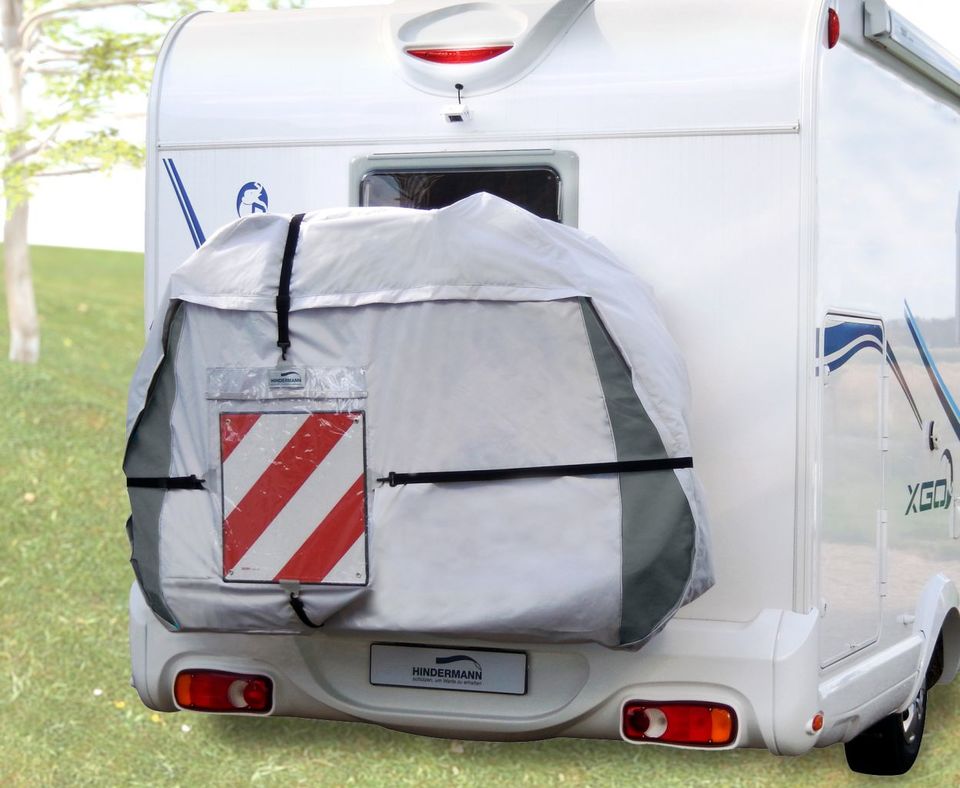 Oustanding quality bike cover by Hindermann:
Concept ZWOO for Ebikes on rear carriers (on any carrier as long as it is mounted to the rear wall of the RV or caravan- EXCEPT FOR THE FOLD DOWN/LIFT ones).
The new concept Zwoo is an all round closed cover, where the bicycle rack can be stored safely together with the bicycles as you can see from the photos. On the back wall there are two zips at different heights, for the retaining brackets, through which the brackets are guided. In this way, a tight adjustment to various racks is possible. In addition, the cover can be secured from the outside using various clamping straps if needed. (these straps are an extra and not included in with the cover)
With large clear pocket for warning sign. (this is sold as an extra also).
When wanting to remove the bikes, all you need to do is open the zip and unclamp the bikes and take them down from the carrier. The cover stays on.
This model here is for two Ebikes and it is therefore longer than the standard cover for the rear with zips also. The length for the ebike model is 2140 mm and therefore works great for long bikes.

Should your bikes have a length of less than 1900, then the standard model will do even if your bikes are ebikes.


The protective covers are not suitable for installation on normal cars.
Please note: When purchasing multiple products our website may calculate shipping costs wrong which can result in shipping costs being dispayed as too expensive.
If you feel that the multiple products you would like to purchase are having shipping costs calculated wrong, please get in touch with us so that we can charge you the right amount of shipping.
View your shopping basket or browse other items.
Contact Details
Request More Information
Details of the product above will be automatically included with your enquiry.
Other products you might be interested in